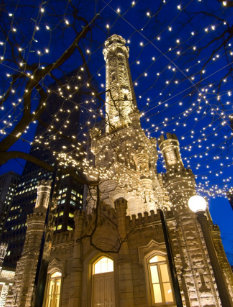 The holiday season is quickly approaching, and as holiday preparations are beginning, safety and security might be the last thing on your mind; but spare some time to consider the following safety tips to ensure your holiday festivities are safe and enjoyable. Warm wishes from your friends at Titan Security this holiday season, and as always, feel free to reach out to us with any security or safety related concerns.
Be Alert
Be aware of your surroundings, walk with confidence, with your head up and stay in well lit areas. Those who appear to be pre-occupied are more likely to be targeted by an offender.
When walking with purses, shopping bags, or other personal belongings, make sure to keep your items close to you, and not in easily accessible places for others to grab. Keep wallets in the front of your pants or breast pocket of your coat.
Keep a close watch on credit cards and balances– report any suspicious behavior right away.
The Chicago Police Department may not respond to an incident that does not involve a crime in progress. Non-emergencies include crimes such as pick pocketing, theft from an automobile, deceptive practices, criminal damage to property, garage burglary, and other offenses in which the offender is no longer at the scene. The police non-emergency number is 3-1-1.
Be Discreet
Never carry large amounts of money, use credit cards instead of cash.
Dress comfortably and casually, thieves and pickpockets are more likely to be attracted to expensive clothing and jewelry.
Secure Your Car
Park as close to your destination as possible and in a well lit area.
Put all shopping bags or valuable items in the trunk of your car, or in a space where they are not visible.
When driving be courteous of other drivers, stay alert, and allow extra time for increased traffic and slippery roads.
Be prepared for emergency situations on the road by having a winter "survival kit" in the vehicle including items such as, a working flashlight, extra batteries, First Aid Kit, ice scraper, and snow-brush.
Secure Your Home
When leaving the house for longer periods of time, make sure to leave lights on at home.
Ask a trusted neighbor to grab any packages that may be delivered while you are away and hold on to them until you are able to get them.
Be careful when using candles by making sure they are kept away from decorations or other flammable materials.
Do not overload power strips. Do not plug space heaters or other devices that use extra current flow in to power strips.
Consider turning off holiday lights when you go to bed or leave the house. The lights could short out and start a fire.
Read tags and manuals of holiday toys, electronics and appliances to make sure you are following safety and age guidelines.
Take your time when decorating for the holidays, use ladders safely and ask for an extra hand when needed.
To view a Robbery Community Alert from the 1st District and Holiday Safety Tips from the Office of Community Policing, click here .